The 2020 Boya Chardonnay represents the first wine in La Kooki's Local. Knowledge. series that we will be releasing over the next few years.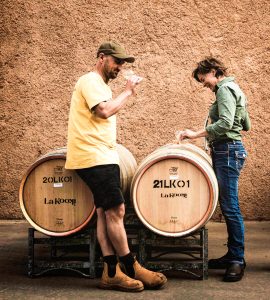 Both Glenn and I have thought deeply about why we love making wine and at every step of the way it has been about the source, knowing and understanding the origins of everything we do when making our wines.
With this first release we stepped out of our comfort zones to add a new source of Gingin clone chardonnay from a vineyard we had driven past so many times on our way south of Margaret River to Boranup beach. Opportunity connected us with the vineyard manager, and we secured a small parcel of fruit from Penny Lane Vineyard, Forest Grove, to compliment our Grace and White Valley Vineyard parcel.
La Kooki Boya Chardonnay was inspired by a conversation we had with the charismatic Jean de St Charles at Chateau du Bluizard, Beaujolais in 2019 where he talked about stones being used to top barrels in Jura, France. You could see Glenn's thoughts go into overdrive with this snippet of information. What if we did this with chardonnay and rolled the barrels to stir the lees through the wine? Combining our wealth of knowledge, with the inherent power and finesse of Gingin clone chardonnay from Margaret River and using this unique method we wanted to create an intriguing wine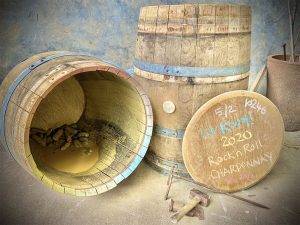 that truly reflects its sense of place in more ways than one!
Having developed the concept of using stones collected from our favourite local beaches to top and stir this chardonnay we decided to use oak barrels that also had a sense of place. While on Glenn's Jimmy Watson Scholarship trip to France in 2019 (easy travelling seems so long ago…) we spent time with Nicolas and Caroline Tartaret of Tonnellerie de Mercurey. This was the same trip that we were inspired by Jean de St Charles' conversation. Nicolas talked of Mercurey's Terroirs d'Exceptions oak selection and specifically the Pierre Exceptionelle oak forests (Pierre is French for stones). Oak from this forest grows on dry, rocky, limestone soils using the taillis sous futaie (coppice and high forest) method of forestry. The resulting oak is very fine grained. The synergy of selecting this oak as our new oak contribution for this wine has been a good match for the Boya Chardonnay.
Boya means 'stones' in Noongar, the language of the Wadandi People who are Margaret River wine region's Traditional Custodians. We wanted to acknowledge the connection we felt our chardonnay had to this region and we felt using boya to describe our chardonnay would express this. We approached the Undalup Association, who represent the Wadandi People, to seek advice about its use and approval to use boya as a description for our wine on our labels. We learnt much in the process and they generously agreed for which we are grateful.
Each aspect of our winemaking process from sourcing fruit and collecting stones from within the Margaret River region, the oak, and particularly the technique of rolling the barrels so the stones gently stir the lees through the wine, has helped create this unique wine.
The 2020 Boya Chardonnay was released in September 2021 and is available at select independent liquor stores and restaurants in Western Australia.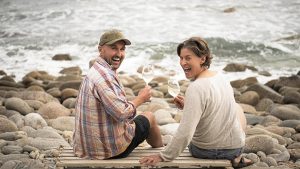 Reviews
Erin Larkin, Halliday Wine Challenge – 96 Points
Sit there is a story here… White peach, fennel flower, white pepper, brine, crushed macadamia and suggestions of curry leaf. On the palate, the pristine and formidable saline acid infuses a staunch backbone, which spools out through a long finish.
Jeni Port, The Wine Pilot – 95 Points
There is a lot of winemaking skill evident in this wine, including the rolling of barrels to stir lees, which leads to a rare complexity. Preserved lemon, white peach, nectarine, citrus and grilled nuts rise from the glass. It's like the wine was born in the traditional citrus/stone fruit mould and then the mould has broken, such is the role of leesy phenolics which coats the wine in a warm creaminess bringing forth baked bread, vanilla and almond characters with it. Stunning.