Come join us in May with Earn Your Vino
Our good friends Cass and Stepan will be hosting Stir n' Swirl: An end of vintage winemaking celebration in Margaret River filled with foodie delights and autumnal pleasures at one of the most picturesque times of year in the region. Over the course of four days guests are set to immerse themselves in the people and places that are the fabric of the Margaret River region. May herald's the end of vintage, and with the grapes all picked, guests will busy themselves inside the winery making a small batch Syrah with Sasha McDonald, owner and winemaker @glenartyroad. Glenarty Road provides true farm to fork dining and is run by Sasha and her husband, fifth generation farmer Ben McDonald.
After some hands-on winemaking, it's time to enjoy a farm expedition before getting a 101 on cheesemaking and charcuterie, before walking away with their own hand crafted burrata. Over the course of four days, there are countless opportunities to earn your vino. From guided hikes towards secret beaches and warming seaside feasts, through to bush trails, tennis courts, kayaking and a private golf course – it's a choose your own adventure smorgasbord. On the wine front, there are ample dinners and winemaker tastings, including one with us, Team La Kooki. Glenn and I look forward to sharing fun insights into what happens next on a grape's journey from vine to glass.
This itinerary would not be what it is without Earn Your Vino's base in the heart of Margaret River region, the Tanah Marah Retreat. This slice of paradise, boasts 240 acres of natural bush and farm land, with an array of opportunities to immersive in the luxury of space and privacy, enjoy the outdoors or just the seclusion of your lake-side villa. The Curtin family runs their retreat as "your home away from home'", with all the touches that make your stay that extra special.
The active 'earning' will be handled by Di and Michael (Brooksy), the expert local guides for our coastal hikes and the two gurus behind the Margaret River MTB Tours. Their love for the natural beauty of our region, their passion for the active engagement with the elements, will be on full display through two morning hikes along the Indian Ocean. There will be plenty of breathtaking vistas, lots of laughs, re-fueling stops and perhaps even a little unexpected surprise or two.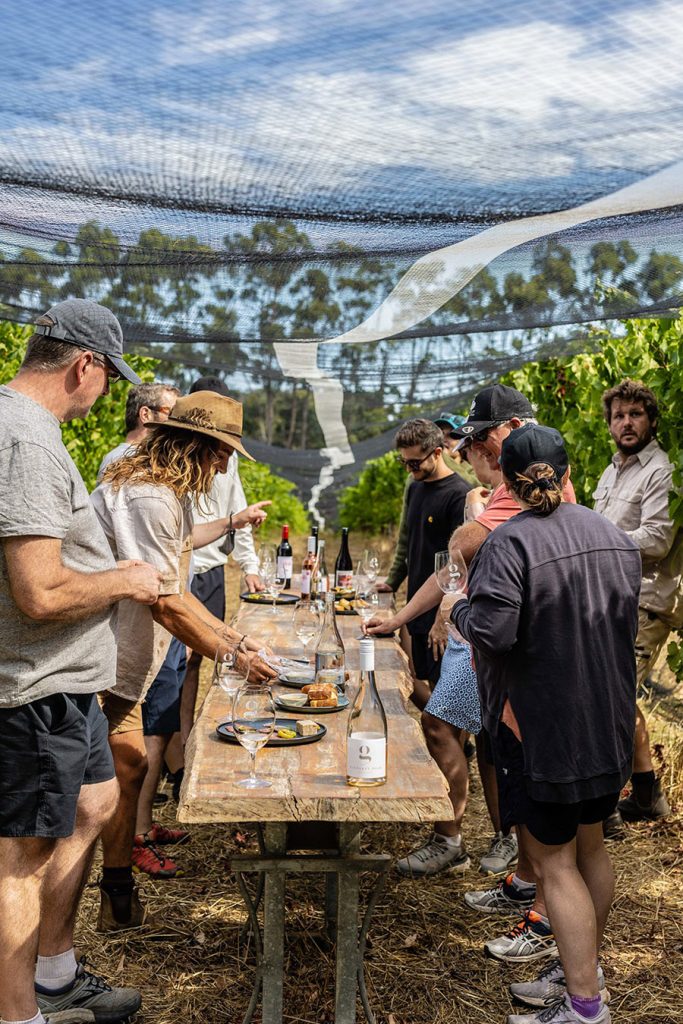 Once again, Cass and Stepan are delighted to have Mel Kokoti on hand as their culinary master to ensure all delights are true to their ethos, to reflect the season and be as memorable as they can get. Mel is one of the longest serving winery restaurant head chefs in the region, holding on to Top 50 ranking in the Western Australian Good Food guide for consecutive five years. Her food is full of flavour, texture and, most importantly, it evokes emotions.
It's still early days with WA borders open and we are excited to join interstate and international guests as they travel deeper and more mindfully through WA's wine regions. With no more than twelve guests per experience, it is also a reassuringly intimate and safe way to travel.
Spots are limited. Click here to book your tickets.